The functional medicine system of care has helped thousands of people across the country and is now available in Central Coast.
Peripheral Neuropathy describes damage to the nervous system in your legs, feet, arms or hands. This vast communications network transmits information from the brain and spinal cord (the central nervous system) to every other part of the body. Peripheral nerves also send sensory information back to the brain and spinal cord, such as a message that the feet are cold or a finger is burned. Damage to the peripheral nervous system interferes with these vital connections. Like a poor cell phone connection, a peripheral neuropathy distorts and sometimes interrupts messages between the brain and usually the endings of nerves. Patients with peripheral neuropathy experience a variety of symptoms such as chronic tingling, numbness, weakness, or even burning pain. They often find it difficult to walk, or sense the type of surface under their feet. They often don't even know if they have injured the affected area and are often miserable because of the chronic pain they experience.
Our approach is comprehensive in helping our patients with peripheral neuropathy. Not only do we treat the local area affected by using cutting edge therapy, addressing metabolic conditions (such as blood sugar problems) but we also treat areas in the brain responsible for receiving these messages from the body. Covering both the neurological and metabolic aspects of this disease is vital for any treatment to truly be successful. It is common that peripheral nerve damage will lead to functional changes in the brain! .
You MUST address all areas in order to get the BEST OUTCOMES
Many people have seen images of the brain with our body superimposed over it displaying specific body parts and how they relate to the brain. There is a 'road map' in the brain of your entire body. Everybody area (foot, hand, face, etc.) is represented in a part of the brain called the parietal lobe. If poor nerve signals come into the brain because of peripheral neuropathy, this can lead to problems in the brain itself. Allowed to progress and the brain actually changes over time and becomes less and less functional. This is termed neuro-plasticity. This plasticity can work for us or against us depending on the information you provide the brain.
Although you might start out with peripheral neuropathy, the longer you have this condition the more likely you'll experience issues higher up into areas of the brain. That is why damage to the peripheral nerves is just part of the story. And why treating the local area can lead to discouraging short-term results.
We Offer So Much More . . .A Unique Non-Drug Approach
For Peripheral Neuropathy our evaluation starts with a unique exam based on the Toronto Clinical Scoring System. Why? Because this exam scores the health or sickness or your nerves. In depth Laboratory Analysis provides important details as to the CAUSE of your condition.
Wouldn't it be nice to objectively demonstrate where you are and how you are improving? Not just, "I feel good today" but an exam that proves you are getting better. How is this accomplished? Through the unique combination of clinically proven therapies…
We use a combination of Brain Based Therapy (BBT), Laser and Infrared Therapy, Spinal Decompression when necessary, Whole Body Vibration, Exercise with Oxygen Therapy (EWOT), The Rebuilder and other Brain-Based Therapies (BBT) geared toward your specific condition to address peripheral neuropathy in a very dynamic way.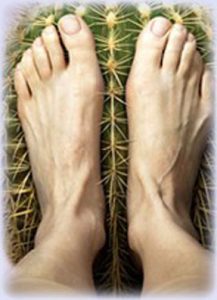 On top of the Brain-Based Therapies (BBT) we also support the nervous system using advanced metabolic and nutritional protocols designed to give you every chance possible to feel better. If you want to restore normal nerve communication, function and health it is best to start healing from the inside out!
No matter what the condition, it is imperative that we perform a thorough and comprehensive exam to determine the exact nature of the patient's condition.